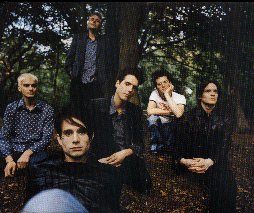 ---
Sadly, Strangelove officially split on the 20th April 1998, depriving the music world of a talented and criminally underappreciated band. A full biography can be found at Electroskies because, basically Sarah says it much better than I can. And i'm lazy. But don't forget to come back here. Using the 'back' button on your browser.
Still, whilst they were around, Strangelove were:
Patrick Duff (vocals)
Alex Lee (guitar)
Julian Pransky-Poole (guitar)
Joe Allen (bass)
John Langley (drums)
Nick Powell (keyboards)
Patrick has done some solo gigs performing acoustically his new solo material. The last one was at a music festival at Wembley in London, He will probably soon be putting some demos down on tape. Food have expressed an interest, so who knows? He is also apparently working with two friends on a play about the life of the poet Shelley. It would also seem that he's now part of a band called Moon, who played Camden Dingwalls on the 15th April. A photo from the gig appears below, courtesy of Ayana...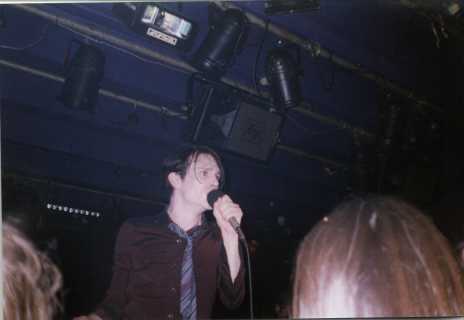 Here's an excerpt from an e-mail from julian, revealing what the rest of the ex-members are up to.
me and joe are playing with a band project called SUNN with which we are recording the album with Massive Attacks producer ...and SUNN have just signed to Massive Attacks label Melankolic (through Virgin)...furthermore 3D signs a rap on a track...and the singer with SUNN Jon Harris is best friends with Massive's 3D hence the future support tour with them.... The Rodney (Allen) thing is an occasional thing.... Astrid (Williamson, ex of Goya Dress) has asked us to do the next album with her... I`m going in the studio soon to put down three or four of my own songs. Alex is working with the Warm Jets. John is on tour with Witness (Island)....supporting Gene. Nick is doing the next Astrid tour with us supporting Roddy Frame.
Julian also appeared with Witness (with whom John is a permanent member) on TV's Later With Jools Holland. Whether this is a permanent thing is unknown, at least by me. Alex and Nick seem to have been doing TV soundtracks, including C4's Soldier Town