---
Glastonbury


Ultrasound appeared at Glastonbury on the Friday, on the Other Stage, accompanied by a large amount of rain. Surprise. Live tracks were played on Radio 1, namely 'Stay Young', 'Suckle' and 'I'll Show You Mine '. Stay Young was also shown on BBC 2, with Tiny memorably gobbing all over himself. He's just a big baby, really. A very big baby.


Soundbite: "Rain is a very good thing. It means it's not hot."



---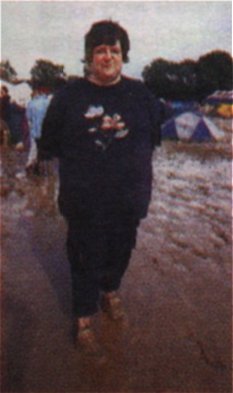 Tiny unwisely wandering around in sandals (!) "Me mam said it'd be swelterin' " (from NME)
---
"But screw Moses, cos here comes God. Ultrasound take the stage and as the opening powerchords of "Same Band" lash out of the stacks, the heavens erupt. It's a perfect climate for Ultrasound, the scene is epic, biblical. Guitarist Richard standing heroically at the lip of the stage grinning up at the weeping skies at the start of the staggering "Floodlit World" is an image I'll take to my watery grave. They play "Stay Young" and it sounds like the Earth's cogs a-spinnin'. Tiny stalks the stage during the climactic "Over There", imploring the crowd, staring out the vengeful heavens. When he lifts his velvet top and tenderly strokes his pendulous, bean-bag stomach some girls behind me squeal "Ugh!". I smile and see what I want to. I see the future."



melody maker july 4th 1998 by Paul Whitlaw




---
"Another miraculous tyke is Richard from Ultrasound. Halfway through "Everything Picture" - the closer to a set fraught with both unfeasibly high expectations and the start of this evening's precipitous holocaust - he smashes his guitar up and storms off in such a heroic fuck-it-all manner he gets the biggest cheer of the set and is forced back onstage to milk the applause with the sort of bashful expression that could melt the heart of even the coldest of weasel-chinned Aunt Priscillas. Bear in mind that 15 months ago, Ultrasound were playing to a gnome's handful of people in Camden's Dublin Castle and it isn't hard to comprehend the guitarist's behaviour."



new musical express july 4th 1998 by Simon Williams
---
T In The Park



Ultrasound played in the NME tent on the saturday, along with the likes of Ash, Rialto , the Super Furry Animals and Spiritualized. And apparently it was pretty special. Tiny himself stayed around for the whole weekend, befriending everyone. A big luvvable huggable teddy bear is how the Melody Maker put it. And who are we to argue? Um. That's about all i know. NME ignored them and I missed the MM with the review in. Sorry.
---
Reading



Ultrasound played the Melody Maker stage on Sunday night... outshining headliners Spiritualized apparently... That's the way....

"Ultrasound's Tiny will forever be a bigger pop star than Sophie [Ellis Bextor -theaudience] not because of the girth of his belt but because of the magnitude of his passion. His is a band who truly believe in the power and glory of rock'n'roll and tonight they preach it with sheer spectacle - guitarist Richard flails like a rock muppet, bassist Vanessa twists her body into a backwards 'u'. All around, mayhem ensues. The moment for which 'Stay Young' was written for has come to fruition. "

new musical express september 6th 1998 by April Williams
---
'What Are You On, Mate?'


TINY WOOD, ULTRASOUND
SOLIDS CONSUMED? I'm afraid I've had rather a lot of pies. [No comments please... -Skip]
LIQUIDS? Coca-Cola. And one Bacardi and Coke.
'OTHER THINGS'? A lot of cannabis, a little bit of acid. I couldn't get hold of any speed, unfortunately.
STATE OF MIND? Very clear.
ABILITY TO ANSWER A SIMPLE GENERAL KNOWLEDGE QUESTION? What band is playing the main stage at 6pm? (It is 6pm, and Foo Fighters can be heard loudly in the background.) Er... Echo And The Bunnymen? [yeah, that's near enough -Skip]
---